There are many folks that don't pay any attention to the real estate market, much less the ultra-high-end real estate market.  For those who do, you won't be surprised to find another mega listing coming out of The Hamptons.  The hedge fund crowd loves it there because they get the chance to hang out with the celebrity crowd for a few months of the year and this trend isn't likely to slow down.  Well, perhaps it will slow down when the hedge fund crowd prices the celebrity crowd right out of the market and turns it into just another place where they can see there cronies. Boring.
This makes me wonder, how is Christie Brinkley's Hamptons portfolio doing these days?
Read on…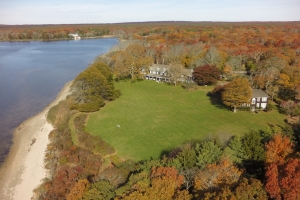 Pricey real estate is nothing new in The Hamptons. But when an 18-acre East Hampton estate sold for $147 million this spring, the coveted beach town moved up a rung on the luxury real estate ladder.
Continuing the trend, the historic Briar Patch estate just hit the market for $140 million. Not only is it the most expensive home publicly listed in The Hamptons, but it's the priciest listing on Zillow in all of New York.
"Briar Patch is a uniquely beautiful estate without equal on the East End," said exclusive listing broker Peter M. Turino of Brown Harris Stevens, Christie's International Real Estate affiliate. "Its setting and scale will appeal to the most sophisticated and discerning of buyers."
Owned by just three families in its 80-year history, the estate spans a quarter of a mile on the Georgica Pond with panoramic views of the Atlantic Ocean in the distance. The entire property — subdivided into two buildable lots — measures 11.2 acres.
A grand Georgian revival, the main residence was completely renovated in 1990 by architect Peter Marino, who has been called "the leather daddy of luxury" by NY Magazine. Highlights of his restoration include a 3-story living room, 6 perfectly proportioned bedrooms, handmade wallpaper, grand fireplaces, a sunken library and expansive porches.
For the past 25 years, the estate has been owned by education entrepreneur Chris Whittle and wife Priscilla Rattazzi.
"As we embark upon the next chapter of our lives, we feel fortunate to have been the stewards of this wonderful home and its land for 25 years," Whittle said. "It has been a source of great happiness to us, our now-grown children, extended family and many friends."
The only publicly listed home that rivals Briar Patch is Palazzo di Amore, a $195 million Beverly Hills compound. Le Palais Royal in Hillsboro Beach, FL is the next highest on the list at $139 million.
Photos courtesy of Brown Harris Stevens
Via:: Zillow